Dark Menace e-Book Bundle
Get Cold Feat and Shadows on the Road and save!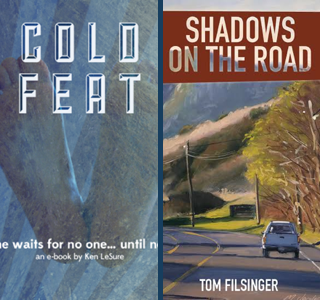 Here's a great deal for readers that love variety: get our two latest e-book releases for only $4.99! That's Ken LeSure's sci-fi thriller Cold Feat and Tom Filsinger's existential road musings, Shadows on the Road.
Shadows on the Road
by Tom Filsinger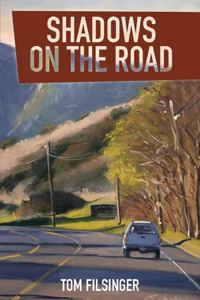 "Shadows on the Road" is a must-read for everyone. It's full of spontaneous adventure and people will relate to the journey.
— Connie A. Von Leitner, host of Global Transformation Show.
Tom Filsinger, a game creator, psychology professor, and author, traveled by car from New York to Los Angeles in 2011 to pursue his dream of seeing his fictional creations adapted for movies and television. During his two-month ride he kept a journal chronicling his adventures in Hollywood and across America.
The stories in the book include a visit to the mansion of a Hollywood mogul, a near arrest for a stolen car in Utah, and a mysterious spiritual quest to Sacramento.
The author describes his visits with celebrity friends in Los Angeles such as Marvel Comics creator Stan Lee and television actress Julie Newmar, depicting a rarely seen human side of these iconic figures.
Throughout the book Filsinger utilizes Carl Jung's trickster motif as an allegory for the wandering nature of the traveler and the spiritual wanderlust in all of us. The title of the book is a nod to Jack Kerouac's classic, "On the Road".
The book can be pre-ordered and begins mailing on June 30, 2014. All books will be autographed by the author unless noted otherwise when ordering.
Please note this book has some swearing (a small amount) and some sexual references (again, a small amount).
Cold Feat
An e-book by Ken LeSure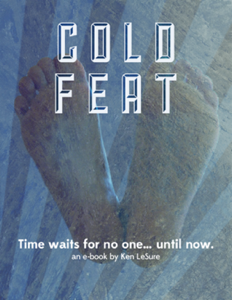 Why would anyone take a shot at Peter Spellman?
Flash back to 1982, the year of the invasion of computers into every American consumer's life. Time magazine names the computer its first inanimate object as "Man of the Year". The Disney entertainment conglomerate releases Tron as the first feature-length computer-animated film.
Spellman is computer-savvy, but not geekish by appearance. He lives in an affluent suburb of Boston. He's ordinary, in most respects, except that he's in charge of cyber-security for a small software company that has just landed a vitally- important government contract—one that calls for the development of a new weapon against the growing plague of international terrorism.
Or, maybe there's another motive for somebody to kill Peter Spellman. His wife, Diane, is bright and beautiful. She meets a handsome stranger who says he's in town to do business with Peter's company. He sweeps her off her feet and, unbeknownst to Peter, a passionate affair ensues. What does this stranger really want? Is he in love with Diane, or does he see her as an avenue to the company's high-priced technological secrets?
Peter's secure life turns into a topsy-turvy world of death threats and paranoia, of delusion and cold-steel reality. Is there a way out?
Peter Spellman's answer is the strangest, most bizarre secret of all!